( Download the English Version | Download the Spanish Version )
USM Mission
USM strives to become incrementally better every day realizing that success is detailed and cumulative. We work on a daily basis toward serving our customers through consistent improvement of process, infrastructure, and employee safety, health, and satisfaction.
Since 1972, the USM commitment to excellence gives our customers peace of mind in knowing that their recyclables are processed in a safe and environmentally-friendly way that follows all EPA and accrediting environmental standards. We take pride in offering accurate, transparent reporting, and outstanding customer service.
---
Looking Back: A Year of Giving
At USM, our employees mean everything. Your contributions to the company are truly appreciated. That's why the US Matters team meets every Friday to produce more ways we can improve the lives of our employees.
As 2022 draws to a close, we thought it would be nice to look back on all the initiatives USM is taking to make our employees' lives better, and improve our community and world.
Weekly raffle – Two employee names drawn every week, winning$100 Visa gift cards. (And even
$500 drawings a few times a year!)
USM ordered new jackets and head coverings for all employees
English classes every Tuesday after work offered to our employees for no charge
Vending machine program —All hourly employees receive a card with $25 a month for food and beverages from the vending machines (upgraded in 2022).
Yearly flu and tetanus shot clinics & Covid vaccine and booster shot clinics at the main campus for employees
Gas subsidy for qualifying hourly employees, depending how far and what kind of car they drive, with allowances for carpooling
Grocery subsidy — Most of our Chicagoland warehouse employees received a monthly$75 gift certificate to a local grocery store for the last quarter of 2022.
United Credit Union partnership— An alternative banking option for USM employees' financial needs. USM gave $25 per quarter for the first year to anyone who opened an account.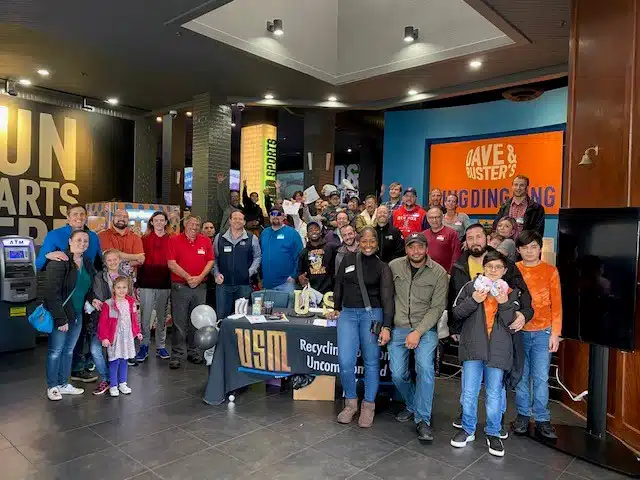 Building a house in Colombia for a family in need — USM has donated to the Obreros de la Misericordia Foundation for several years, but made a significant contribution that allowed the Foundation to build and give a home to a deserving family in Colombia.
---
FEATURED EMPLOYEE
Oliberto Diaz
Oliberto currently works in the copper department as a machine operator and is training to be a receiving scale operator. His manager, Joshua Santiago, has so many great things to say about him. Oliberto is very committed to learning English and has been attending the USM-sponsored English classes. He always asks questions and takes every opportunity to learn something new. Since he started at USM in May 2019, he has obtained a wide skill set through on-the-job training. He can now operate a forklift, Bobcat, the Bricker, shaker table and both the small and large shear! Oliberto has a bright future here at USM and we are all excited to see him grow!
---
---
Winter has arrived
The winter solstice is upon us — Wednesday, December 21st. The winter solstice is the day with the fewest hours of sunlight in the whole year, making it the "shortest day" of the year. Good news: After December 21st, we will gain about 2 minutes of sunlight a day!
---
Reminders:
As we count down the days till 2023 we still have time to check our boots.
If you have not yet used your boot reimbursement for 2022, you still have time! USM will reimburse up to $150 per year for a new pair of boots. All you have to do is bring your receipt to your manager to get reimbursed!
Other reminders…
USM now offers English classes at the Fulton campus. If you're interested, please let your manager know.
---
Wellness tips for the Winter
Our winters here in Chicago can be long, so here are some health and wellness tips to make it through:
Stay hydrated with watee
Eat your vegetables
Keep moving: Exercise is an important part of both physical and mental health.
Get your sleep
Wash your hands
Dress appropriately for the weather
Wear a mask in large crowds. Covid is on the rise again!
---
---
Have an idea? Is there something you would like to see added to our newsletter?
Feel free to send us an email at: [email protected]
We can't guarantee it will be added but we will certainly try!